2023 Showcase Horse Show Series
DATES: April 16  | May 21 | Sept. 10 | Oct. 15
---
The Showcase Horse Show Series offers local riders the opportunity to compete in more than 73 classes in 18 divisions at each competition. Showcase's events are affordable and offer riders of all levels an opportunity to compete at a local venue.
The 18 divisions featured include: Cross-Rail, Walk-Trot, Short, Long, and Rusty, Green and Hunter classes, Jr/Am Divisions, GSDHJA Medals, IEHJA Medals, USHJA Medals, Thoroughbred Incentive Program (TIP) Classes, and Jumpers Divisions.
USHJA Outreach Program
Showcase events will offer all IEHJA, T.I.P., & GSDHJA classes under the USHJA Outreach Umbrella with no USHJA membership fee.
IEHJA Membership
In order to accumulate points and to be eligible for year end IEHJA awards you must be an IEHJA member. You can register to be an IEHJA member online at the link below. Please register before the show so you don't miss out on points!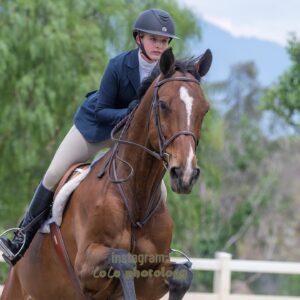 More About Our Shows
Show Manager Gretchen Clark, who is owner and trainer of Showcase Training Stables, is no stranger to hosting horse shows. She has held shows at Showcase for over 15 years, as well as for more than 12 years at her previous location in Sunset Hills, and has had as many as 80 exhibitors per show.
Her shows are designed with the hallmark qualities of professionalism, set to be on-time, and managed with back-gate and exit gate efficiency for all divisions and classes.  
The facilities include a Jumping Arena, an upper and lower practice arena and a large, easily accessible parking area for trailers, trucks and cars. There is on-site food provided, sun shelters, and photographic services.  
At Showcase you will find smiling, friendly, and informative staff to assist you.
Showcase is proud to be a part of the Inland Empire Hunter Jumper Association, which sanctions shows at a variety of venues in the Inland Empire. All Showcase Shows are Inland Empire Hunter Jumper Association rated. For more information on the IEHJA, including rules and other sanctioned shows, or for IEHJA standings, visit their website http://www.iehja.org.
All Showcase Shows offer:
Free Exhibitor Raffles

Daily Division High Point, Trainer Incentives, and Year-End Show Series High Point Awards

Ribbons for 1st Through 6th place