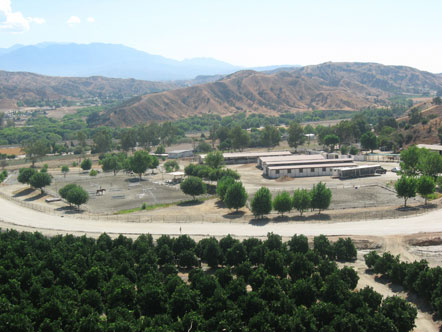 Tucked away yet conveniently located
Tucked in the San Timoteo Canyon, surrounded by orange groves and the foothills, our 17-acre ranch is conveniently located in Redlands, approximately an equal distance from Los Angeles and San Diego.
Established in 1994 by Gretchen and Dennis Clark, Showcase is known throughout Southern California as the Inland Empire's premier hunter and jumper training facility.
Exceptional Facilities. The Highest Standards.
We offer a variety of indoor and outdoor stalls, 2 lighted arenas, 3 large turnout areas, and a regulation-size dressage court, as well as access to miles of horse trails in the nearby foothills.
Our arenas are sanded and groomed regularly and maintained to the highest of standards.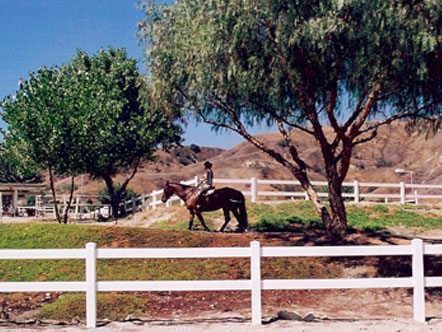 A Place both you and your horse will love
The care and well-being of our resident horses is our top priority. We strive to provide them with a peaceful, comfortable home along with excellent professional care and handling.
Along with standard boarding services, we schedule all aspects of equine care, including veterinarian, farrier, dentist, show grooming and much more.
Facilities at the Ranch
TRAINING ARENAS
At Showcase, we have two arenas for shows, lessons, and practice:
a 120 x 240 lighted jumping arena, and
a 120 x 200 lesson arena.
DRESSAGE COURT
Our dressage court is regulation size, with a well-groomed sanded footing.
Also Available
3 large turnouts
Round pen
Bull pen
Wash racks
Cross-ties areas for owners and students
Owners' tack rooms
Boarders' tack room
Boarding Options
Showcase offers a variety of boarding accommodations. Please note that boarding fees do not require training, but a training plan can be added to your package if desired.
Owner provided supplements are fed at no additional charge. Blanketing is also included.

An automatic fly spray system is installed in the main barn and semi-barn. Automatic waters are installed in all barns, semi-barns, and corrals.

A third daily feeding, bagged feed (A&M, Rice Bran, etc), supplements, and most other services are available if needed or desired for an additional charge.
Contact Show Office for rates (909)798-9479.
BOARDING FEES
| | |
| --- | --- |
| Type of Boarding | Fee |
| Corrals | $430 |
| | |
| Stall with run | $515 |
| Stall with smaller run | $495 |
| | |
| Barn stall | $515 |